A Winter Guide to Humboldt County
Imagine standing at the end of the northernmost ocean pier in California, watching the sunset over the frigid North Pacific that is stretching out before you. Follow this by strolling into Trinidad, a fishing town in Humboldt County, Northern California, to find your favorite place out of a selection of amazing eateries. Or perhaps you'd prefer a stroll around Trinidad Harbor, watching the fishing fleet arrive, or depart if you're an early riser. The lighthouse makes a perfect vantage point. Welcome to winter in Humboldt County.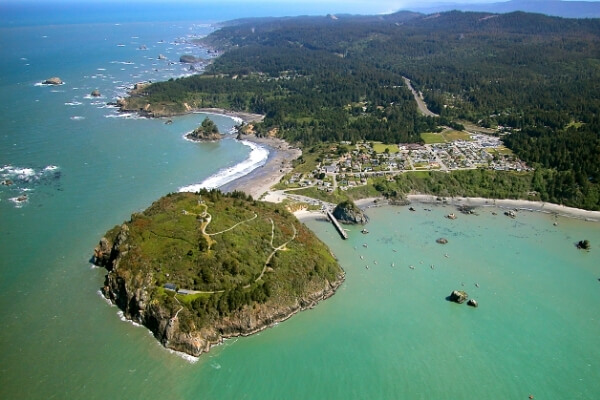 A Wild Wonderland
The Lost Coast is rugged, remote, wild and stunningly beautiful. People are few and far between, adding to the beguiling atmosphere of one of the remotest parts of the state. If you're traveling along the lost coast trail through the King Range conservation area, it will pay to be aware of the tides that can cut the track and there are bears who inhabit the area.
Walking Among the Giants
A slight tour off the 101 will take you along the Avenue of Giants, which is 31 miles of road tunneling through towering Redwoods that loom overhead. There are plenty of walking trails if you want to explore deeper into the forest. If you're here early, you could have the whole landscape to yourself.
In the northern part of the county, Patrick's Point State Park is full of Redwoods touching the sky, while the noise of the Pacific Ocean fills the air. Nearby Wedding rock offers a lunch break with sweeping views and a stroll down Agate beach could be rewarded with finding some Agate stones.
Thirty minutes north of Trinidad, Redwood National and State Parks are home to the tallest trees on earth. You can enjoy a walk among the Giants while searching for the ten most famous trees, including locations where Return of the Jedi was filmed.
Fill your Belly
While here, you owe it to yourself to try some of the local eateries. At the base of the Trinidad Pier, the Seascape Restaurant is famous for its Clam Chowder and fresh seafood caught daily. The Beachcomber Cafe is overflowing with local charm, while Katy's Smokehouse has been delighting tastebuds with locally caught smoked fish for over 60 years. The Moonstone winery in the heart of Trinidad provides the perfect spot to unwind at the end of the day.