What do you look for when you want to go to a beach in Northern California? Dramatic scenery? Dog-friendly? Shell collecting? August is the best month for the many public beaches along Trinidad's spectacular coastline. Some of them were recently reviewed for an article called 'The Best Beaches in Trinidad CA' on thingstodo.org.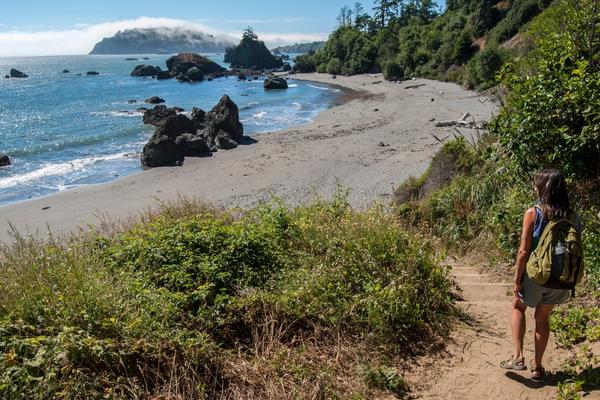 Moonstone Beach / 4.5
Calm, shallow water makes this quiet beach great for little children. Dog friendly! A few caves at the north end of the beach, but not many shells. This picturesque beach is popular with surfers and has a great view of Camel Rock.
Trinidad State Beach / 4.5
Hike the hills to see beautiful rock formations among the swirling mists. Dog friendly! The beach has a picnic area with tables, stoves, and restrooms. Great place for birdwatching and viewing the brilliant colors of the sunset.
Big Lagoon County Park / 4.5
A family beach, perfect for watching the sun go down, beach combing, and collecting 'gems.' Kayak rentals are available and there is a boat ramp to the lagoon. Dogs are allowed off-leash on the wave slope and on-leash on dry sand.
Luffenholtz Beach Park / 4.0
This gorgeous beach is accessible by new and improved steps from the cliffs above. Collect shells in the tide pools. Dog friendly! Excellent place to photograph the giant rock outcropping called 'Trinidad Head.'
The Best Beaches in Trinidad for You
Reserve your stay at Emerald Forest Cabins and RV and discover the best beaches in Trinidad for you. All the beaches are so beautiful here, they get perfect scores from us! Emerald Forest amenities include the clubhouse, playground, video arcade, gazebo, pet area, fish-cleaning station, immaculate restrooms, laundry, convenient camp store, and lots more.
Recent guest Roqzmom described Emerald Forest Cabins & RV this way on Campendium, "Beautifully kept park! It felt like we were a million miles from civilization yet we had all of the modern conveniences. Cell service was excellent, bathrooms were gorgeous and clean, laundry facilities top notch ($2 per load/dry). Would definitely stay here again!"
Life's a Beach in August at Emerald Forest Cabins & RV!