Discover Humboldt County's Beautiful Sue-meg State Park
Formerly Patrick's Point State Park
Northern California's Humboldt County offers some of the most lush and gorgeous scenery in the country. One of the best places to immerse yourself in this natural beauty is Sue-meg State Park (formerly Patrick's Point State Park). This one-square mile park is easy to see in a day but really packs in the opportunities for adventure. With its dense greenery, rugged coastal geologic rock formations, Native American history, and unique wildlife, Sue-meg State Park is one you don't want to miss.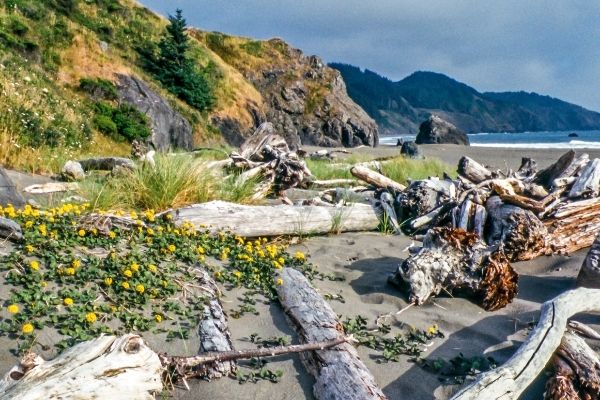 Due to its storied past, local Native American tribal leaders and historians had been pushing for a name change for this very park since its adoption in 1963. As recently as the first weekend in October 2021, the California State Park and Recreation Commission voted to rename the park from Patrick's Point State Park to its original Native American name, Sue-meg State Park (pronounced, soo-may). The Yurok tribe, who were in the area prior to its settlement in the mid 1800s, originally named the land after its distinctive seaside rock formations. The park now offers visitors a reconstructed view of tribal life, which can be seen at Sumêg Village.
Other activities you can enjoy at Sue-meg State Park include hiking, biking, agate-hunting, picnicking, whale-watching, and learning about the science and history of the area. Easy hikes include the two-mile Rim Trail where you can see sea lions, seals, and possibly a grey whale; the shorter Visitor's Center to Sumêg Village and Ceremonial Rock trail; and the one-mile Wedding Rock and Sue-meg Overlook trail. A moderate hike can be found on the Rim Trail Grand Tour, which is a four-mile roundtrip with opportunities for several side trips along the way. For a strenuous hike, you can travel 6.4 miles one-way to Dry Lagoon, and even continue for another 6 miles (depending on tide levels) to the Redwood National and State Parks information center in Orick.
Come Visit Us in Beautiful Humboldt County
Sue-Meg State Park (formerly Patrick's Point State Park) in Humboldt County is a local gem that should be on everyone's must-see list. When you plan your trip, book your stay with us at Emerald Forest, where you can let your inner child run free in the grandeur of nature…and discover a new peace. We're located just five miles south of Sue-meg State Park and offer full hook-up RV sites, W&E RV sites, tent sites, beautifully furnished cabins, and access to Pacific coast beaches and the friendliest community on earth.