Easy and Delicious Meal Ideas for Camping
Meal planning can be tough when you're traveling, especially if you don't want to eat at a restaurant for every meal. And hot dogs are great and all, but sometimes you might want to shake things up. To make things a little easier for your next outdoor vacation, we've laid out a couple of meal ideas for camping in this blog.
One of the classic campfire meals is the all-in-one foil packet. The best part about these recipes is that you can add, subtract, or substitute just about any ingredient you want. Not to mention, you can also cook it however you want- over a campfire, on the grill, in the oven, or wherever you can find a heat source! Here are two variations that are relatively simple, easy, and delicious meal ideas for camping.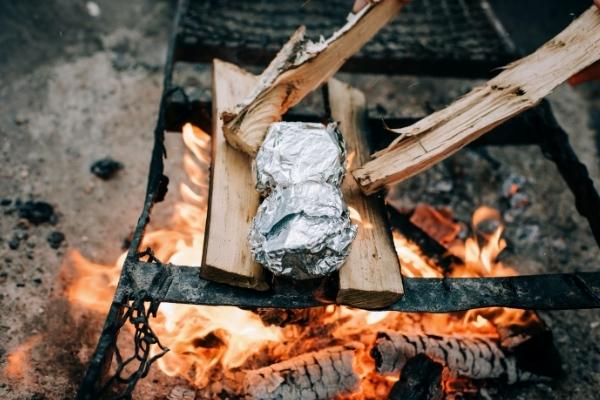 Meal Ideas for Camping
Campfire Seaside Surf Packets
For this recipe, we welcome you to Trinidad on the Northern California coast, where you can pick up fresh, local seafood to use your campfire packet.
Ingredients (8 servings)
1/2 cup of unsalted butter
1 Tbs grated lemon peel
32 clams in shell, scrubbed
32 uncooked shrimp, deveined but with shells
32 sea scallops
8 ears of corn on the cob, quartered
32 large cherry tomatoes
1 Tbs chopped fresh chives
8 12×12 in. squares of aluminum foil
Salt and Pepper
Directions
Step 1 – Preheat your cooking source to medium. Melt butter and mix with lemon peel.
Step 2 – Fill foil sheets with equal amounts of each ingredient and drizzle with lemon-butter mix. Fold opposite ends of the foil together to create a complete seal while leaving room for steam.
Step 3 – Place packets onto heat source and cook until clams open and shrimp are pink and opaque, usually 15-20 minutes. Open a packet to check on cooking progress.
Step 4 – Serve on a plate out of the foil packet, or empty contents into a serving dish. Add salt and pepper to taste and garnish with chives.
Campfire Beef and Veggie Packets
Ingredients (4 servings)
1 lb ground beef
5 potatoes, peeled and cut
4 large carrots, peeled and sliced
1 onion, peeled and sliced
Garlic powder to taste
Salt and pepper to taste
4 12×12 aluminum foil sheets
Directions
Step 1 – Preheat your heat source to medium-high.
Step 2 – Lay out aluminum foil sheets. Shape ground beef into 4 patties and place one on each foil sheet. Layer potatoes first, then other veggies on top of each patty and season with salt, pepper, and garlic to taste.
Step 3 – Seal aluminum foil and cook for about an hour, or until desired doneness. Serve.
More Campfire Meals, Please
These are just 2 variations on classic meal ideas for camping. You can create hundreds of different versions of these campfire meals with just a few ingredients and a little imagination. Plan for your next family campfire meal to be in the heart of the redwoods at Emerald Forest Cabins & RV.