Eureka! You've Found Redwood Sky Walk
According to legend, when James Marshall discovered gold at Sutter's Mill, he shouted 'Eureka' – ancient Greek for "I have found it." You'll holler the same thing when you find the Redwood Sky Walk in Sequoia Park Zoo in nearby Eureka.
Voted the #1 Best Aerial Adventure Park by readers of USA Today, Redwood Sky Walk seems to float within the Sequoia canopy, 100 feet above the forest floor. The sky-high hike is a quarter of a mile long. Every member of your family can thrill to this tree top experience; the gateway and 360' ascent ramp are wheelchair accessible.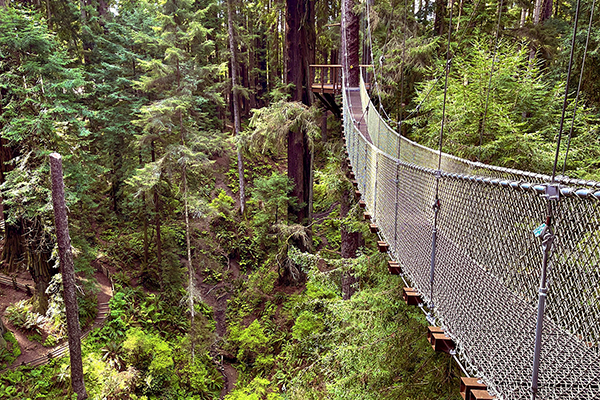 Photo: Sequoia Park Zoo on Facebook
Thrilling
Nine inter-connected platforms and bridges offer incredible views of the plants and animals that live sky-high in the mighty trees. The Adventure Segment is a hanging, swaying bridge that will likely give you that fluttery feeling in the pit of your stomach as you creep across the cable-suspended span, far above the logs and leaf litter on the forest floor below.
Sequoia Park Zoo
Come back down from the Redwood Sky Walk and stroll through the zoo. See bears, coyotes, whistling ducks, spider monkeys, red pandas, and all the other animals that live closer to the ground. Sequoia Park Zoo is open every day but Monday. Take a little day trip to visit the zoo and the Redwood Sky Walk at 3414 W Street in Eureka. Your destination is only 22 miles south of your cozy campsite at Emerald Forest Cabins & RV via US 101.
A Day Trip to Eureka
From unspoiled beaches to camping, fishing, and golfing adventures, you can spend weeks in Trinidad and never run out of things to do. So make plans to visit Redwood Sky Walk when you reserve your stay at Emerald Forest Cabins & RV and discover top-notch amenities, ancient towering trees, and life at tree top level. Eureka!