What is a moonstone? Moonstone is a translucent, bluish-white mineral with a mysterious sheen. Mined all over the world, it is a popular choice for jewelry. And yes, sometimes beautiful moonstone pebbles wash up on California beaches.
Moonstone Beach County Park
Will you find moonstones at Moonstone Beach? Located just 2.9 miles from Emerald Forest Cabins & RV, Moonstone Beach County Park is a wonderful place for surfing, rock climbing, swimming, sea-kayaking, and beachcombing for moonstones. Perhaps you will find a luminous pebble there or perhaps you will simply enjoy the moonlight as it illuminates the large two-humped island known as Camel Rock.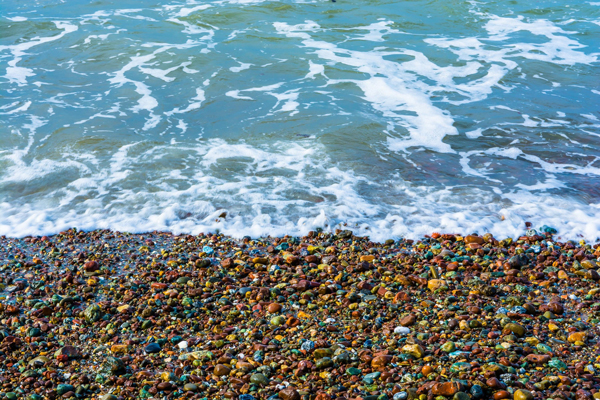 Dogs Can Howl at Moonstone Beach
Dogs are allowed off leash at Moonstone Beach! The Park is at the north side of the mouth of Little River near Trinidad. Its beach is popular with surfers and the slow river current makes it a safe choice for families with children. Depending on the time of year you visit, the river can be wide or just a trickle.
At the north end of Moonstone Beach there are hidden caves to explore at low tide. South of the river mouth is Little River State Beach. Wade through the river to wander away from the crowds. In the summer months it is warm enough to swim in Little River.
Moonstone Grill
Visit Moonstone Beach and then have a relaxing meal at Moonstone Grill, where seafood, American fare, and craft cocktails are presented in a warm setting with ocean views.
You'll find both the Beach and the restaurant at 100 Moonstone Beach Road in Trinidad. Free parking too!
Find the Magic of Moonlight under the Trees in Trinidad
Search for mysterious moonstones when reserve your cabin or RV site at Emerald Forest Cabins and RV.