Historic Lighthouses in Trinidad
Lighthouses are tall towers with bright lights and loud fog horns. Located in dangerous locations, like rocky cliffs and sandy shoals, they serve to warn mariners of hazardous approaches to harbors and bays. Long before radio transmissions, GPS systems, and the internet, lighthouses were so important to the well-being of American shipping that Congress approved the first federal public works program – The Lighthouse Act of 1789 – to support lighthouses, beacons, and public piers.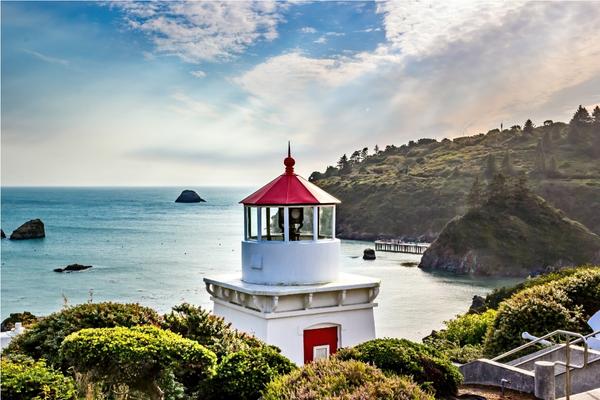 Lighthouses Today
Navigational aids have come a long way since ancient people tended bonfires on hilltops to alert passing ships of danger. The majority of lighthouses now operate automatically and some beacons run on solar power. Nevertheless, as a fixed object with its own pattern of flashing lights, each lighthouse can still function as a unique point of reference for mariners and a backup for electronic systems.
Two Historic Lighthouses in Trinidad
Many lighthouses – like the 1898 Replica Lighthouse in Trinidad State Beach and Trinidad Head Lighthouse – have become museums.
Trinidad Head Light

On the National Register of Historic Places, Trinidad Head Light was built in 1871 and is 25 feet tall. Automated in 1974, the Bureau of Land Management now manages the lighthouse and surrounding grounds. The trail to the Lighthouse is open the first Saturday of every month. Admission is free.

Trinidad Memorial Lighthouse

Visit Trinidad State Beach to see the 1898 Replica Lighthouse and enjoy dramatic views of Trinidad Bay.
Plan to See the Sea at Emerald Forest Cabins & RV
When you plan your next getaway at Emerald Forest Cabins and RV, you'll be in tune with more than one 150 years of lighthouse history, yet up-to-date with modern comforts and conveniences like WiFi, a rec hall with fireplace and hearth, a game room, a playground, and an onsite Mini-Mart with everything you need, including beer and wine.