Kayak in Spring to See Whales
The spring months of March, April, and May are the best times to see these mighty creatures of the deep. That's when thousands of migrating grey whales and their calves swim north from Baja California to Alaska, stopping to rest in Trinidad Bay. Reserve your Spring getaway at Emerald Forest Cabins & RV to see whales as they make their annual journey to colder Northern waters.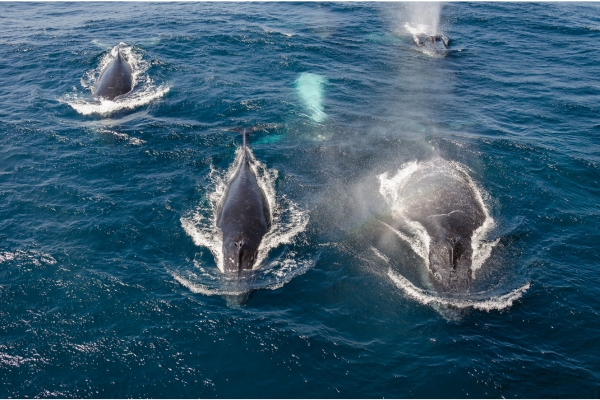 Whale Watching by Kayak in Trinidad Bay
Whale watching by kayak is probably the most up-close and personal experience you can possibly have with an animal that weighs 60,000 pounds and is as big as a bus. Jason Self of Kayak Trinidad cautions paddlers to stay 100 yards away from marine mammals, including whales and harbor seals. But, sometimes whales will swim right up to you. Don't move! You came to see whales, so take a picture of the most amazing sight you will ever encounter.
Kayak Trinidad offers kayak rental and expert instruction. When you take the Whales & Wildlife Tour, you're likely to spot sea & shore birds, porpoises, seals, sea lions, otters, sea stars, anemones, and urchins while silently gliding past the rock gardens, towering sea stacks, and kelp forests of the Redwood Coast.
Your guided whale watching kayak tour includes…
Kayak with bulkheads and perimeter lines fore & aft
Dry suit or wet suit with paddle jacket
Booties
Paddle
Personal Flotation Device with whistle
The tours at Kayak Trinidad take about 3 hours. Guests are encouraged to bring the following in the quest to see whales…
Synthetic or wool clothing
Waterproof camera or phone
Water
Small snack
Sunscreen
Hat
Change of clothes
Sunglasses
Come Now for the Spring Whale Migration
When you plan your whale watching vacation under the mighty trees at Emerald Forest Cabins & RV, you'll be in tune with millions of years of natural history, yet up-to-date with modern comforts and conveniences like WiFi, a rec hall with fireplace and hearth, a game room, a playground, and an onsite Mini-Mart with everything you need, including beer and wine.