Paddle Your Way Around The Trinidad Coast
Designated the gateway to the California Coastal National Monument, Trinidad, California offers some of the most breathtaking scenery on the western coast. Since the area is mostly inaccessible and undeveloped, one of the best ways to see a lot of this untouched beauty is by way of paddling, either in a kayak, canoe, or a Stand-Up Paddleboard (SUP). Here are a few of the best spots to paddle the Trinidad Coast.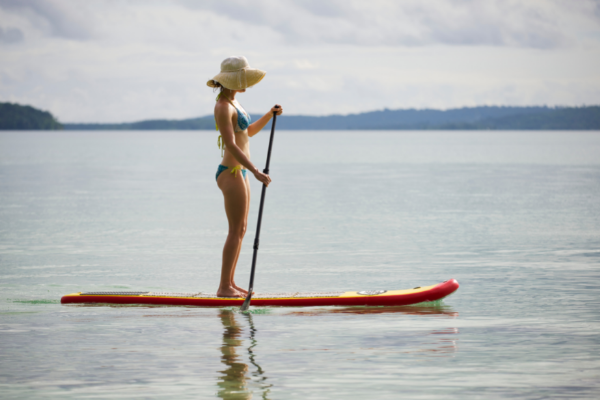 Paddle the Trinidad Coast
Big Lagoon
This body of water is separated from the ocean by a small sandbar which protects it from water swell, making it a much more easy-going experience than paddling in the aggressive Pacific waters. Some of the local scenery here includes sandy beaches, wetlands, and forests which are home to otters, elk, pelicans, herons, and many other species. This Lagoon is managed by the Humboldt Lagoons State Park as well as Big Lagoon County, which charges a $5 day-use fee. More info >
Stone Lagoon
Also a part of the Humboldt Lagoons State Park, Stone Lagoon is located just a few miles north of Big Lagoon and offers even more inland protection from sea winds and swell, making it much safer for swimming and paddling than the ocean. Local wildlife includes Roosevelt elk and many varieties of migrant birds, which are common sites around the lagoon. You can also stop by the State Park Visitor Center and Museum while you're here. Parking at Stone Lagoon is free. More info >
Freshwater Lagoon
The third and final wet lagoon in the Humboldt Lagoons State Park chain is Freshwater Lagoon. This is the smallest and most protected lagoon in the series, making it an ideal paddling spot for families with small children. Since the lagoon is fully enclosed, you can find largemouth bass, catfish, and cutthroat and rainbow trout. Freshwater is co-managed by the Redwood National Park which offers free parking. More info >
Trinidad Bay
For a paddle in the ocean, Trinidad Harbor offers a protected launching and landing location so you can experience the big water without the breaking waves and surf that you're likely to find elsewhere. Paddling south along the Trinidad coast, you'll have the opportunity to see plenty of wildlife like sea and shore birds, porpoise, seals, sea lions, otters, sea stars, anemones, urchins, and more. If you prefer a guided ocean experience or need rental equipment, Kayak Trinidad is a local outfitter and guide service.
Plan Your Stay
We've got the perfect home base for you and your group to rest up between paddling the ocean and lagoons of the Trinidad Coast. Book your stay at Emerald Forest Cabins & RV and experience restful camping under a canopy of redwoods enveloped by rich vegetation and a sparkling creek winding around your campsite. See you soon!