Just south of the pier in Trinidad Bay is Prisoner Rock, a rocky island covered with vegetation and home to elephant seals and California sea lions. Why the name 'Prisoner Rock'? According to local lore, the name dates from the 1880s when drunks were left out there to sober up. The more plausible explanation is that fishermen were often stranded on the rock when high tides cut off their return to shore.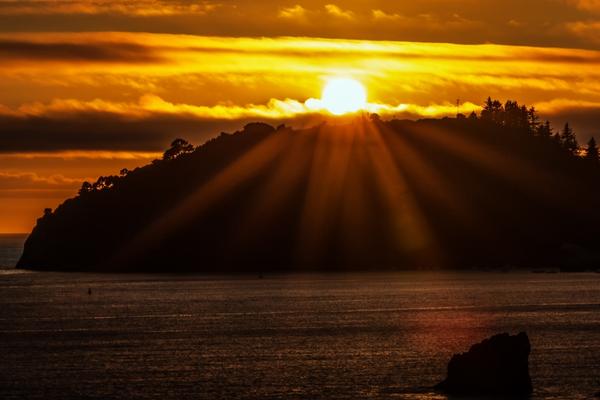 As for the vegetation, it is a couple of varieties of edible groundcover known as Ice Plant and Sea Fig. Sailors made a jam from these plants to avoid scurvy – the leaves are full of vitamin C. The plants make good crispy salad greens and pickles. They contain so much moisture, they can even substitute for drinking water.
When you reserve your stay at Emerald Cabins & RV, you won't have to make your dinner from the plants on Prisoner Rock because there are plenty of restaurants and farm markets nearby. Not only that, but also Prisoner Rock Charters will take you directly to the fish, so you can catch your own fresh, delicious feast.
Prisoner Rock Charters
Call Captain Jason to charter his services and his ocean sportfishing boat, a 26′ Glacier Bay Catamaran, known as The Black Cadillac. He will take you directly to where those wily fish are biting. Five Stars from everybody for Prisoner Rock Charters. Here's one of them…
"Went with the family on a morning trip. Jason was very responsive and knew where to go for fish. Got our limit in a few hours (6 of us) and he cleaned them all for us on the dock. Highly recommended. Thanks Jason!" ~ Thad B on Google Reviews
The Fish in Trinidad Bay and Beyond Prisoner Rock
You might reel in…
Lingcod
Chinook Salmon
Cabezon
Black Rockfish
Plus! There are many species of fish and crustaceans that hang around the pier and Prisoner Rock. Call Prisoner Rock Charters at (541) 749-0145 to make your ocean sport fishing dreams a reality!
Or take your camera to get great pics of Prisoner Rock from the pier when you book your stay at Emerald Cabins & RV.