RV Safety Travel Tips for 2021
This year, safety is at the forefront of everyone's minds. Here's how you can keep yourself safe in 2021.
Keep Your Distance
Almost every campground and RV park will stagger sites so guests can socially distance without it impacting their vacation. However, you should still stick to your area and keep a safe distance away from your neighbors. Not only is it considerate, but it'll reduce the risk for you and your family.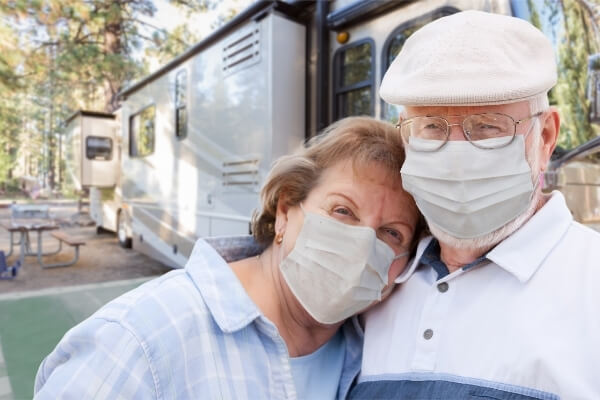 Talk To Your Family
If you travel with children or pets, then make sure you have ground rules for how you're going to act at the campground. Younger children may not understand why they can't play with other children, so you should set rules in place for where they can and can't go. Plus, if you've got pets, you should make sure to keep them on a leash or tie-out if you're sitting outside so they don't run through other areas.
Know Your RV
For many RV owners, it's easy to forget how something works, particularly if you only use your RV for part of the year. However, now more than ever, it's vital that you understand how the core components of your RV work to avoid needing a stranger to enter your vehicle. Before you set off, you should at least know how to set up your water and sewage lines, and power lines if you need them. You should also consider how far you're willing to travel away from home in case something malfunctions, and you can't get it repaired.
Keep Stocked Up
Before you set off, make sure your RV is stocked with everything you need for your trip, or at the very least, for the first few days of your vacation. You'll want to make sure you have enough hand sanitizer, soap, and face masks so you can stay safe on site. Plus, by making sure you have enough food and drinks for your trip, you can avoid needing to run to the grocery store, which further reduces risk.
How Emerald Forest is Keeping Guests Safe
Whether you're bringing your RV or enjoying one of our signature cabins, you can rest assured knowing that Emerald Forest is doing everything we can to reduce risk on-site. All of our staff are required to socially distance when they interact with you or other staff members, and we've put together an enhanced cleaning schedule for all of the communal areas on site. We also require that everyone wears masks in all shared areas to prevent the risk of the virus spreading.
If you need a vacation and want to be in the safest hands, book your trip with us today!