Stalking the Gumboot Chiton in Trinidad's Tidepools
Folks who live in Trinidad and poke around in the tidepools may be familiar with the gumboot chiton, perhaps so named because it resembles the feel of a rubber rain boot. Chitons are members of the mollusk family and the gumboot chiton is the largest chiton in the world. These critters can be found creeping slowly around in tidepools here in Humboldt County.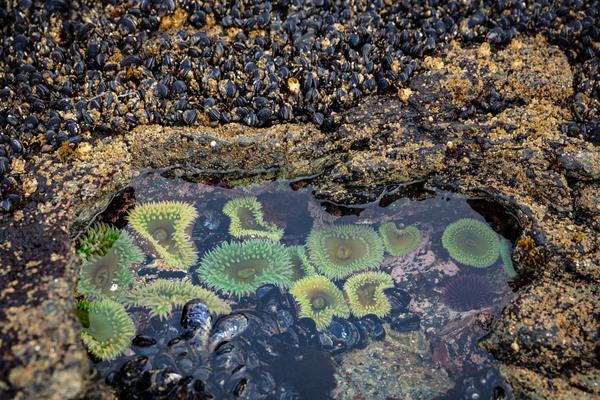 Eek! What's That?
If you find something that looks like a deflated football or a slab of liver, you've found a gumboot chiton. Their rubbery orange skins do indeed resemble a football's texture, but the chiton's hide conceals eight bony plates, so they're not as floppy as they look.
Anywhere from 3 – 13 inches long, gumboot chitons are herbivores and feed on seaweed, algae, and sea kelp by means of many tiny teeth in a zipper like structure called a radula. Despite being nocturnal creatures, you may find them in tidepools on foggy, overcast days.
Finding Gumboot Chitons Indoors
Your first instinct after settling into your cabin or RV site at Emerald Forest Cabins & RV is probably to rush to the beach and explore the tidepools. Go at low tide and you'll likely find sea stars, anemones, and mussels on the rocks of the Pacific Ocean's intertidal zone. Maybe chitons, maybe not.
Nevertheless, you can see a gumboot chiton on display in the Natural History room of the Trinidad Museum, as well as paintings of this unusual creature by artist Sara Long when you visit the Trinidad Museum at 400 Janis Court at Patricks Point Drive in Trinidad.
Tidepools and Towering Trees
Emerald Forest Cabins and RV has every magically woodsy and scenic vista you can imagine, including mysterious sea creatures in tidepools, towering trees, and starry nights. Book your stay at Emerald Forest and commune with nature on the pristine beaches of Trinidad.