You've gazed in awe at the towering trees, you've walked along the wind-swept beaches in the mists of morning, and you've dined on the freshest seafood in Trinidad's favorite restaurants. Now you wonder…what else is there to do? Stay one more day, and then another. We offer discounts on nightly rates on camping and cabins from September through early May.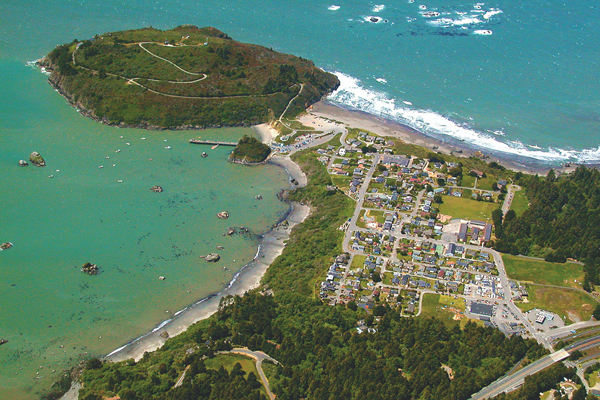 Here's What Else You See When You Stay One More Day:
In Trinidad
Indian Beach / Old Home Beach
See amazingly large driftwood at the site of the ancient Tsurai Indian Village. Take the steps down to the beach, head south to Parker Creek Trail, and then return through town.
Trinidad State Beach Park
So beautiful it could be a movie set. Look for Grandmother Rock, the wave-carved Arch, and tide-pools full of colorful sea life. You may encounter a few surfers and dog-walkers on this quiet beach.
South Trinidad
Baker Beach
Nude sunbathers and spear fishermen populate this scenic, protected cove about a mile south of town.
Luffenholz Beach
Striking views of seastacks, sea lions, and seals. Take the trail to a vantage point high above the beach where you can watch the waves crashing below.
Houda Point
Go a little bit further south of Luffenholz to see the remains of an old lumber loading station.
North Trinidad
Su-Meg (formerly Patrick's Point) State Park
Dense forests of pines and red alders stretch over an ocean headland festooned with wildflowers. Watch whales and sea lions, hunt for agates on Agate Beach, and visit Su-Meg, a reconstructed Yurok Indian village.
Big Lagoon County Park
Just a sand spit separates Big Lagoon from the thundering Pacific Ocean. The calm lagoon is great for kayaks, canoes, and row boats.
Why go home when you can stay one more day at Emerald Forest Cabins and RV?
Take Advantage of Pre-season Low Rates and Book Now!