Take A Stroll Through A Majestic Fern-Covered Canyon
The National Park Service and the California Department of Parks and Recreation cooperatively manage what is known as The Redwood State and National Parks. These parks include Redwood National Park, Del Norte Coast Redwoods State Park, Jedediah Smith Redwoods State Park, and Prairie Creek Redwoods State Park (Fern Canyon).
Fern Canyon
To explore Fern Canyon, you'll need to swing by Prairie Creek Redwoods State Park, a 14,000-acre natural paradise of sandy beaches, forests filled with the world's largest trees, open meadows where California's largest land animals graze, and 75 miles of trails to see it all. If you prefer viewing nature from two wheels, Prairie Creek also has a 19-mile bike loop.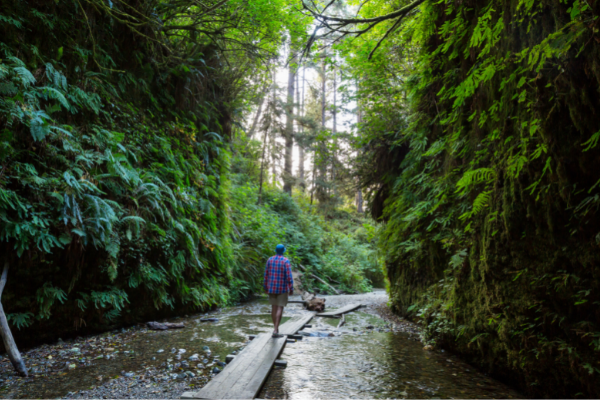 The canyon walls stand 50-feet high and are flush with seven different species of fern, including five- finger, deer, lady, sword and chain ferns. If you can't quite picture the canyon, you may remember seeing it in the movie Jurassic Park: The Lost World or in the BBC's Walking With Dinosaurs. Steven Spielberg described Fern Canyon as, "an unforgettable natural wonder." How's that for an endorsement!
On your way to the canyon, you can check out a number of other popular attractions in the park, like Trillium Falls Trail, The Newton B. Drury Scenic Parkway and the 'Big Tree', Gold Bluffs Beach, and more.
A Few Details About the Park
The day-use entry fee is $8, but they do accept the America the Beautiful parks pass and the California State Parks pass.
Bring cash for the entry fee, as there is no electricity at the gate for credit/debit purchases.
Prairie Creek does allow dogs in the park, but they are not allowed on any trails, and the parking lot for Fern Canyon is not shaded.
The park is open year-round.
See the Fern Canyon and so much more when you book your stay at Emerald Forest Cabin & RV, where every day brings a new unforgettable experience.