The King of Fish – Chinook Salmon
The largest and most valuable species of Pacific salmon is the Chinook, named for the Native American people of the Pacific Northwest. Also known as King Salmon, these big, beautiful fish, prized for their nutritional content, are blue-green, red, or purple on the back and top of the head, with silvery sides, and white bellies. Their flesh might be white or pink, depending on their food sources.
And you might be fortunate enough to reel one in – after a good fight – if you book a saltwater fishing charter on Trinidad Bay.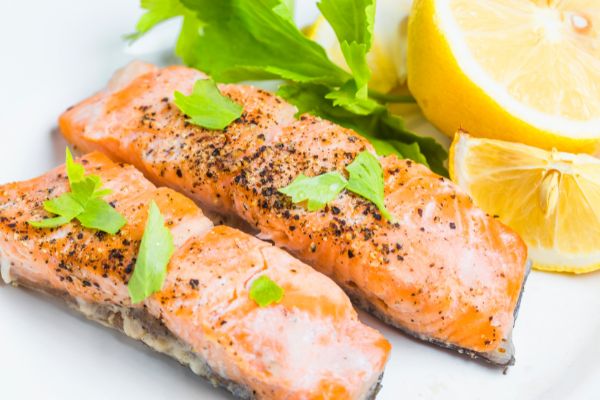 Chinook Salmon for Dinner
When you book your stay at Emerald Forest Cabins & RV, you're looking forward to the kind of outdoor experiences that can only be had in Northern California under the Redwood trees. And one of those experiences is feasting on Chinook salmon. These large creatures range from 10 – 50 pounds, and can grow as large as 100 pounds!
If you haven't tried angling for salmon, you can still treat yourself to fresh-caught or smoked Chinook salmon when you visit Katy's Smokehouse and Fish Market at 740 Edwards Street in Trinidad. With its velvety-rich texture and the highest oil content of any salmon, it's easy to see why Chinook salmon is considered to be the King!
Roasted Chinook Salmon with Herbs and Butter
Ingredients
1.5 lb fresh-caught Chinook salmon fillet
8 stems of fresh tarragon, parsley, or dill
1.5 tbsp of capers (optional)
2 tbsp lemon juice
1 lemon, thinly sliced
2 tbsp butter
1 tbsp cooking oil
Salt & pepper
Serve with lemon wedges
Method
1. Preheat the oven to 425ᵒ.
2. Line a baking dish with parchment paper and brush with oil.
3. Season the salmon with salt and pepper. Put half of the herbs and lemon slices on the parchment paper, and place the salmon – skin side down – on top. Dot with butter and scatter the remaining herbs and lemon slices on the fish. Add the lemon juice and the capers and put it in the oven.
4. Roast for 12 – 15 minutes being careful not to overcook. Your salmon should be flaky on the outside and tender on the inside.
5. Let rest 5 minutes before serving.
Pro tip! A nice bottle of Chardonnay would go great with your Chinook salmon dinner.
For an Unbeatable Camping and Dining Experience, Book Your Stay at Emerald Forest Cabins & RV and Enjoy a Dinner You'll Remember Forever.