Three Great Trails for Hiking and Camping Near Trinidad
The beautiful coastal community of Trinidad in northern California along the Pacific Ocean, is a hiker's paradise. There are myriad great trails for hiking and camping, suitable for all skill levels and ages.
Trinidad Head Trail
You'll love the alluring vistas of the coastline as you hike this 1.25 mile trail. Give yourself an hour to complete. This easy-to-moderate trail starts in the village, and lasts approximately one hour, roundtrip. At the trail's summit you'll find a bench, ideal for sitting and catching the sunset. Spot migrating gray whales at the end of the trail-in early winter and again in the spring.
Luffenholtz Lookout Trail Park
Just two miles south of Trinidad you'll hike the Luffenholtz Lookout Trail. It's a short, easy-to-moderate level hike where you'll savor a sweeping overlook of the Pacific Ocean, picnic area, and a steep trail down to the beach. This is a spectacular rocky cove teeming with tide pools and such wildlife like: humpback and gray whales, indigenous seals, sea lions, and sea birds like common murres and tufted puffins. Relish sunsets from the lookout point, while you enjoy an amazing view of Trinidad Head along with its bay and harbor. Park admission is free so get here early or expect a crowd.
Rim Trail (Patrick's Point State Park)
Located just north of Trinidad, you'll enjoy trails and hikes on bluffs overlooking the coastline, leading down to beaches and into forests. Arguably the best trail, Rim Trail, is a 3 1/8 miles long (without including the spur trails, and 4.5 miles if you include them all) hike with beautiful ocean views and offshore rocks where you may see whales, sea lions, and harbor seals. This easy, mostly level trail provides access to six steep spur trails, which lead to breathtaking vistas.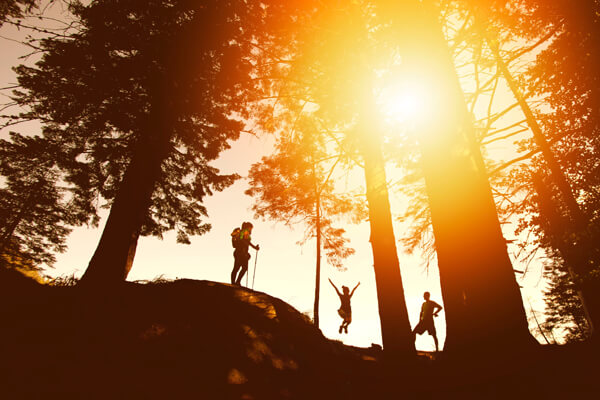 Enjoy the best hiking and camping in Trinidad at Emerald Forest Cabins and RV, where you will savor amazing redwoods and dramatic coastlines near by. Book your stay now, so that you can discover the jewel of Humboldt County.