Why wait for a rainy day to have an enjoyable indoor activity? The Trinidad Art Gallery is a co-op hosted and run by the member-artists. Their beautiful art works span every genre, from photographs and paintings, to wood carving, ceramics, sculpture, metal work, blown glass, jewelry, beadwork, cards, gifts, and music CDs. Go there no matter the weather – you'll love it.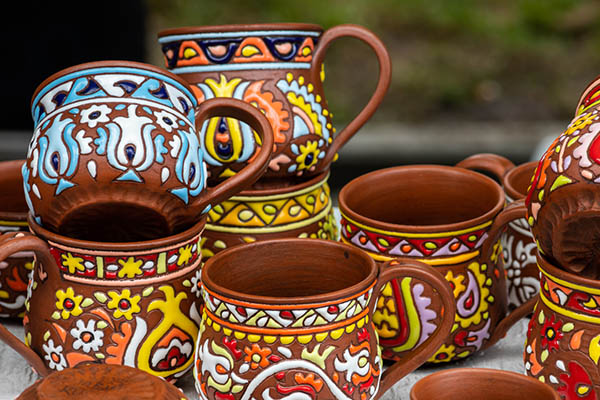 What, Where, and When
Every month, the Trinidad Art Gallery chooses two artists and showcases their work. The featured artists for May 2023 are Elaine Y. Shore and Jennifer Pierce. The public is invited to attend the opening reception on Saturday, May 27th, 6pm – 9pm.
Trinidad native Jennifer Pierce focuses on glass mosaics and draws her inspiration from the ocean and the flora and fauna of Humboldt County. Many of her works include pebbles, rocks, and shells found on the beach.
A founding member of the Trinidad Art Gallery, Elaine Y. Shore creates colorful, functional porcelain pieces with carved surface decorations, depicting flowers, redwoods, and whales.
In addition to the opening reception, you can view these artists' works and the work of many other gifted artisans from 10am – 5pm every day. Or come to the monthly Trinidad Art Nights on the last Friday of each month, from April through October to enjoy live music and refreshments. It's a party, featuring the member artists.
You'll find the Trinidad Art Gallery at 490 Trinity Street in Trinidad. Need more information? Call them at (707) 677-3770.
Remember your Emerald Forest Vacation with Original Artwork
You'll remember your vacation forever with an original work of art from the Trinidad Art Gallery. When you plan your getaway to include the artistry of nature at Emerald Forest Cabins and RV, you'll stay up-to-date with modern comforts and conveniences like WiFi, a rec hall with fireplace and hearth, a game room, a playground, and an onsite Mini-Mart with everything you need, including beer and wine.