Walk on The Wild Side of Trinidad
Giant redwoods, pounding surf and rocky bluffs meet seabirds and marine mammals as you hike from forest to shoreline on the trails of nearby parks and preserves.
Hiking Trinidad CA
Patrick's Point State Park
Hike through the alders and spruce trees of this rugged, wooded headland to a stunning view of the Pacific Ocean. Patrick's Point reveals spectacular views of gray whales, harbor seals and sea lions.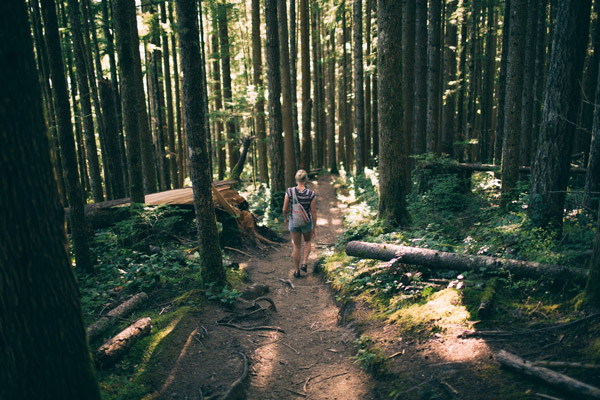 Trinidad Head Trail
Beautiful hiking trail with gorgeous views. From Trinidad Head, you can look down on the town of Trinidad, the bay in which fishing boats are harbored, the shore on both sides, and breathtaking sunsets over the horizon out at sea. About 1.5 miles of moderate trails, with the lighthouse open to tours on select days.
Mad River Beach
Located in Mad River County Park, Mad River Beach offers sandy dunes, beachcombing and beautiful place to view old barns and collect rocks and driftwood. Watch for Roosting Barn Owls in holes in the high bluffs across the river. Black-capped Chickadees and American Redstarts have nested here, and good vagrants have included Philadelphia Vireo and Worm-eating Warblers.
Humboldt Coastal Nature Center
Visit Moonstone Beach at Humboldt Coastal Nature Center. You'll see huge rocks, a seaside cave, lupines blooming everywhere, and an annual sand-sculpture festival.
Trinidad Bay Memorial Park
Bring binoculars to watch sea-birds from your perch overlooking Trinidad Bay.
Stagecoach Hill/Azalea Nature Trail
A springtime treat, Azalea Nature Trail starts in a Sitka spruce forest that leads to a sunny, azalea-filled slope overlooking the ocean.
Seawood Cape Preserve
Really wild! Seawood Cape Preserve is a vital habitat for Pacific tailed frog, coast cutthroat trout and southern torrent salamander. Coastal access is available via makeshift, steep trails made by fisherman to get access to the water. Use extreme caution if you choose to use these trails to explore the coastal areas.
Interested in the flora and fauna of Humboldt County? View pictures of the plants and animals you might see as you explore. How many of these species have you seen today?
Reserve your stay at picturesque Emerald Forest Cabins and RV for an unforgettable look at Trinidad's wild side.