Your Summer Vacation Begins with a Cabin and a Click
Are the kids ready for a summer vacation? All you have to do is wait for the last day of school, pack up the motorhome, and head for Emerald Forest Cabins and RV. Choose an RV or tent site under the enormous trees or opt for a rustic, individually decorated cabin with kitchen or kitchenette, claw-foot tub, wood burning stove, and living area.
More Cozy Cabin Info
Less than a mile to Trinidad State Beach, you'll find cozy comfort in the cabins, some of which date back to the 1930s. You see, folks have been enjoying a summer vacation at Emerald Forest for years, even without an RV. Here's why…
Some cabins sleep as many as 10 people – just right for a big family
Some cabins are pet friendly
Bedding and linens are provided – you don't have to pack anything
Fully furnished living areas
Running water and faucets
Kitchen has appliances and utensils
Private bathrooms
Outdoor grill and picnic table
Internet and Smart TVs
Porch or patio – many have creekside views
Emerald Forest cabins are popular. Choose from various cabin styles and sizes, plan ahead for your summer vacation, and book now.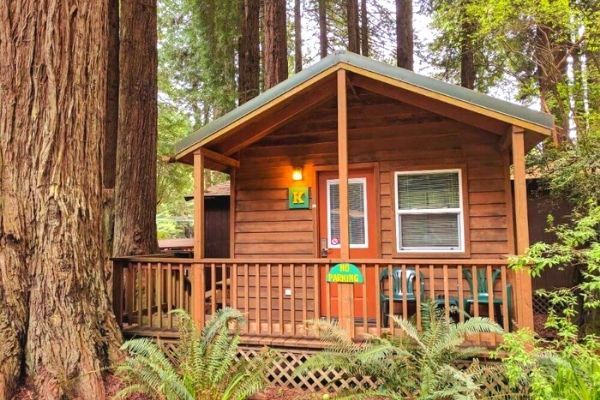 All About the Trees
Redwoods are the giants of the forest. Some are taller than the Statue of Liberty and bigger around than a Greyhound bus. Thousands of years ago, they were found almost world-wide, but now their natural range is restricted to the foggy coastal belt of Northern California. Because of the way these trees reproduce by cloning and their natural resistance to floods and fire, some of these trees date back to the time of the dinosaurs. Amazing isn't it?
When you plan your summer vacation under the mighty trees at Emerald Forest Cabins and RV, you'll be in tune with millions of years of history, yet up-to-date with modern comforts and conveniences like WiFi, a rec hall with fireplace and hearth, a game room, a playground, and an onsite Mini-Mart with everything you need, including beer and wine.