Your Vacation Cabin in Trinidad
What's better than spending time in a beautiful cabin in majestic Northern California? How about sipping a hot mug of cocoa, immersed in the natural world from a comfy deck chair? Perhaps you'd rather enjoy an invigorating hike while you inhale the breathtaking beauty that is Trinidad.
Your vacation cabin in Trinidad awaits. What's better is that you have amazing choices with our well-furnished cabins. You can choose from a variety of cabin sizes, many of which have porches and decks facing the creek while others have cozy, wood-burning or propane fireplaces to gather around.
Vacation Cabins at Emerald Forest offer:
Various styles and sizes
2 to 10-person sleeping options
Bedding and linens provided
Living room with furnishings
Running water with faucets
Private, full bathrooms (1 to 2 bathrooms)
TV with internet and cable
Kitchen with appliances and utensils
Porch or patio
On-site store for basic camping items, sundries, and branded souvenirs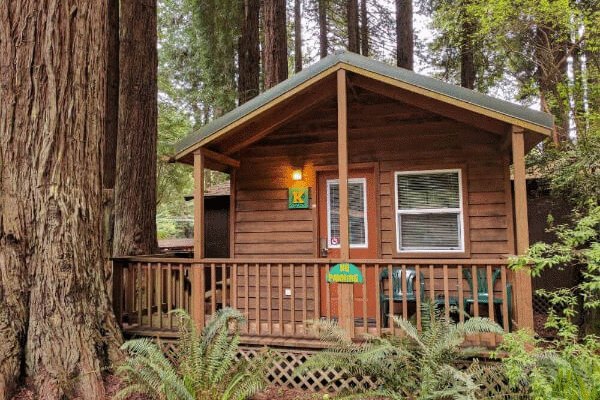 Emerald Forest Cabins and RV is your ideal cabin rental in Northern California. You'll enjoy numerous hiking areas, nearby shore fishing at pier and coast, close proximity to amazing restaurants, dog-friendly grounds, horseshoe pits and playground, and on-site management.
Visit now and savor the soothing calm of Northern California's tranquil beauty that is Trinidad. Lasting memories are born here but only if you book your stay and enjoy your premier cabin rental in Northern California, at Emerald Forest Cabins and RV.