Beautiful Coastal Views, Great Fishing, and Amazing Chowder at Trinidad Pier
If you're looking for a beautiful location for fishing off a pier, taking an exploratory walk while beachcombing, or savoring some of the best clam chowder the California coast has to offer, look no further than Trinidad Pier. Just a 5-minute drive from Emerald Forest Cabins and RV, the pier juts out into the Trinidad Harbor.
Stunning Scenery
Aside from being California's northernmost oceanfront pier located where the wild and rugged edge of the Pacific meets the beautiful ancient emerald forests of redwood country, Trinidad Pier also sits in the shadow of a massive rock covered in greenery. There is beach access on either side of the pier for those wishing to beachcomb or try to capture some beautiful coastal photos.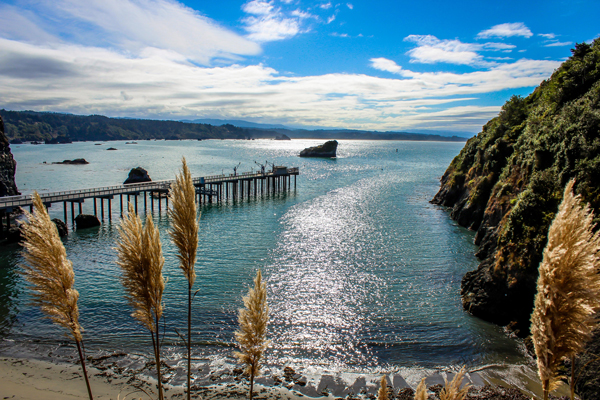 Fishing and Activities
When staring out towards the water, the beach on your left is a great place to launch a kayak or take in the rugged coastal scenery and relax to the sound of the incoming waves. Those who enjoy a leisurely hike can walk along the Trinidad Head Trail.
If fishing is what you are after, licenses are required to fish off Trinidad Pier and can be purchased at the gift and tackle shop located at the beginning of the pier. They also offer rod and reel rentals as well. Those trying their luck can catch various greenling, perch, and rockfish species. The Pier is also a popular crabbing spot.
Seascape Restaurant
The Seascape Restaurant has been serving fresh seafood to travelers, fishermen, and locals since the 1950s. Their menu features sandwiches, salads, desserts, and fresh seafood practically off the boat. They also have some of the best clam chowder on the North Coast.
Use Our Onsite Cleaning Station To Prepare Your Trinidad Pier Fishing Haul!
After a day of fishing off the Trinidad Pier, or enjoying the beach, head back to your Emerald Forest retreat under the beautiful canopy of redwoods. Clean your catch at our onsite fishing cleaning station and cook up your fresh-caught seafood at your RV site or cabin.
Come Stay Where Forest Meets the Sea at Emerald Forest Cabins and RV!