Explore Humboldt Lagoons State Park
Humboldt Lagoons State Park is an oasis that you'll love to explore! It combines the best of both worlds with wetlands and coastal sands plus plenty of forest, giving visitors the option to experience whatever kind of tranquility they're searching for. There's so much to do and even more to see!
Lagoons
Being part of the largest lagoon system in the U.S. means that there are plenty of picturesque lagoons for visitors to enjoy – three in fact! Moving from north to south, there's Freshwater, Stone, and Big Lagoon. Freshwater is the most secluded of the three and has been developed the least. Big Lagoon, on the other hand, has been tailored to fit the needs of campers and adventure seekers alike. Boating, fishing, and swimming in the lagoons are just a few of the must-do activities.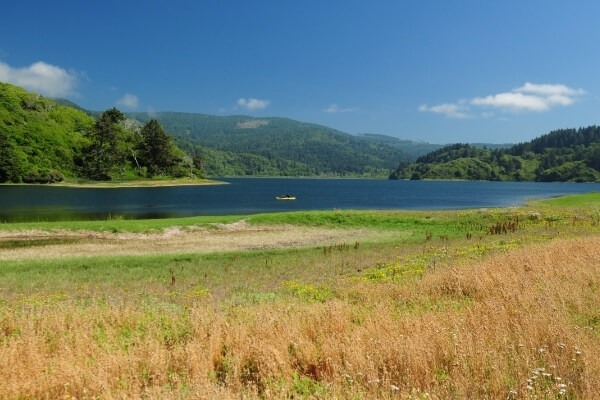 Wildlife
Visitors can expect to enter a world where wildlife roams freely, giving you the unique and exciting opportunity to get up close and personal with some of nature's most magnificent creatures. The dueling landscapes of ocean and forest give Humboldt Lagoons visitors the chance to see whales, trout, salmon, seals, porpoises, elk, and a variety of migratory birds.
Learn More About Our Area Wildlife >
Walking and Hiking
Perhaps one of the most relaxing escapes from the hustle and bustle of everyday life is taking a stroll through one of the many trails within the park. Whether you're looking for a leisurely walk to escape into the peace of nature or you're looking for a bit of adventure on a hike, you can do it all within Humboldt Lagoons. While you're out, don't forget to hunt for some of the breathtaking semi-precious agates hidden within the park.
Kayaking
Experiencing nature from the water gives you a unique perspective that you can't get on land. Visitors to the lagoons often enjoy renting kayaks to give them a bit of adventure and a new view of the park's wetlands. Waters within the park remain relatively calm since they're protected from the sea making it the ideal environment to glide across the water's top.
When you stay at Emerald Forest Cabins & RV, every day brings a new unforgettable experience!