Red-Footed Booby Spotted Near Trinidad Head
Big news for bird watchers! A
red-footed booby
– a tropical seabird that is rarely seen in this part of the world – was photographed on May 25 by local resident Don Galusha about five miles northwest of Trinidad Head.
The only other time a red-footed booby has appeared nearby was in November of 2021 in Sue-Meg Park. Red-footed boobies do not migrate. Their typical habitats are in tropical and subtropical volcanic islands and atolls, like Hawaii and the Galapagos Islands. Although many species of seabirds have colonized the coast of Trinidad, these agile birds, with their colorful beaks and big red feet, are not among the types of birds that live here. Red-footed boobies mate for life and tend to stay put in the tropics.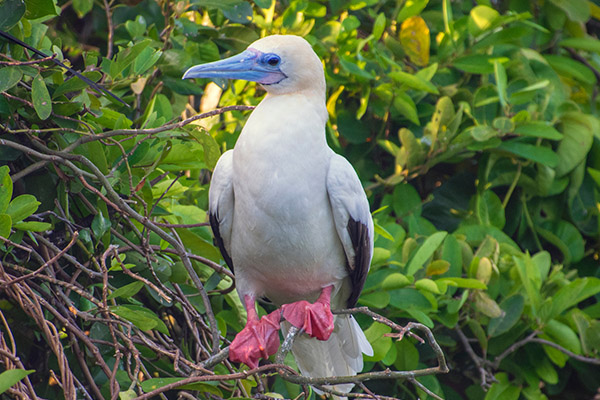 Best Bird-Watching Trails Near Trinidad Head
Take your binoculars and camera to look for birds and explore these trails in Trinidad State Beach. Dogs are welcome on both trails, but must be on a leash.
Trinidad Head Loop Trail
This 1.7-mile loop trail is generally considered an easy route and takes an average of 49 minutes to complete. Popular with birders and hikers, the trail is open year-round and is beautiful to visit anytime.
Trinidad Beach and College Cove via Elk Head Trail
This moderately challenging 1.5 mile loop trail offers tide pools, waterfalls, moss covered forests, rugged bluffs, crashing waves, sandy beaches, and beautiful Coastal scenery… a true hidden gem for bird watchers!
Trinidad State Beach is open sunrise to sunset every day of the week. Just north of Eureka on Hwy 101, the park's address is 4150 Patrick's Point Drive in Trinidad.
Bird Watching on Beaches in Trinidad
Reserve your stay at Emerald Forest Cabins and RV and discover bird watching on the best beaches in Trinidad. Will you see a
red-footed booby here? Probably not, but all the North Coast beaches are so beautiful, the thousands of seabirds that do live here are perfectly happy. You'll be happy too! Emerald Forest amenities include the clubhouse, playground, video arcade, gazebo, pet area, fish-cleaning station, immaculate restrooms, laundry, convenient camp store, and lots more.
Life's a Beach in Trinidad at Emerald Forest Cabins & RV