Spooky Season at Carson Mansion
The grandest and most photographed Victorian home anywhere, Carson Mansion was the inspiration for the Orlando Disney World's Haunted Mansion, a classic spooky tour through an eerie haunted estate. Huge and opulent – lumber tycoon William Carson built it at a cost of $80,000 in 1885 ($2.6M today) – it is now the private Ingomar Club and off limits to you.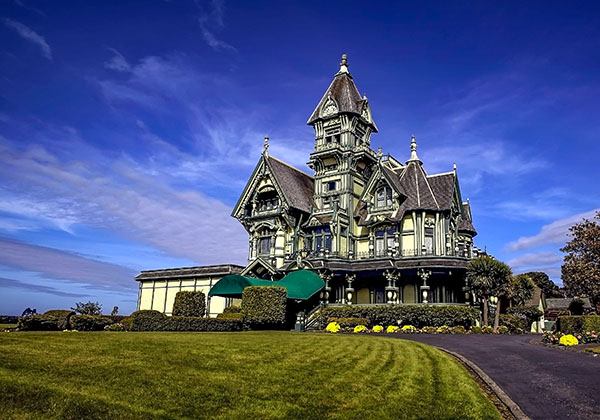 What's in There? Two Ways to Find Out
The four-story, 18-room mansion has both a basement and a tower, two features that were unique in California at that time. Intricately carved woodwork, stained glass windows, and even a key-hole shaped hallway are a few of the eye-popping details inside the Carson Mansion. Although the Mansion is a members-only private club, you can still feast your eyes on the lavish interior of this fabled dwelling when you take the free virtual tour.
Or, you can go to see "Haunted Mansion," a PG-13 Disney adventure movie playing in theaters as of July 28, 2023. Inspired by the Disney World theme park attraction, the film is about a woman and her son who enlist so-called spiritual experts to rid their historic home of supernatural squatters. The movie was mostly filmed at Carson Mansion. Get tickets to the movie and see all the grand sights that are off-limits to non-members.
Take Spooky Selfies Outside at Carson Mansion
Dress up in your old-timey top hat and ball gown. Then take a short drive to see the Carson Mansion at 143 M Street in Eureka to put yourself in the picture. Take your camera! Here's a tip… the Mansion is soooo big that you will probably have to stand a little way off to get the whole thing in the snapshot.
Unusual Spooky Sea Creatures in Trinidad, California
Bats and black cats are the animals most associated with Halloween, but if you discover a mysterious gumboot chiton creeping slowly around in a tide pool on the beach, run as fast as you can and get your camera. Gumboot chitons are kind o' scary looking, but completely harmless. Book your Spooky Season stay at pet-friendly Emerald Forest Cabins & RV to experience thrilling nature, crashing surf, the Carson Mansion, and maybe even a gumboot chiton. They are boo-tiful in their own weird way.